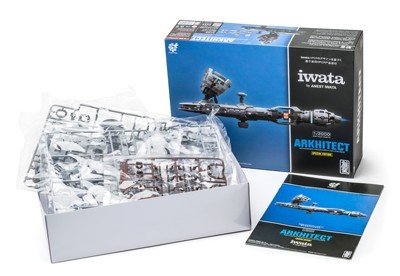 Plastic, Metal, Circuits, and Lights
The model kit is officially licensed by Anest Iwata and includes 177 plastic parts, 22 LEDs, 6 circuit boards and a metal rod. The size of the finished model is 272 x 70 x 41 mm.
It can be connected to a power source via USB port to make the LEDs light up. The model parts can be easily plugged together.
The Arkhitect model kit is a must-have for all Iwata fans and is available by special order only.
Model Kit Features:
An Airbrush shaped spaceship inspired by the Iwata HP-C Plus airbrush
Snap-fit kit that does not require adhesive
Detailed instruction book for easy assembly
Finished model measures 272 x 70 x 41 mm
Equipped with 22 LEDs and 6 PCBA (control circuit board)
Connect via USB port to make the LEDs light up
USB not included