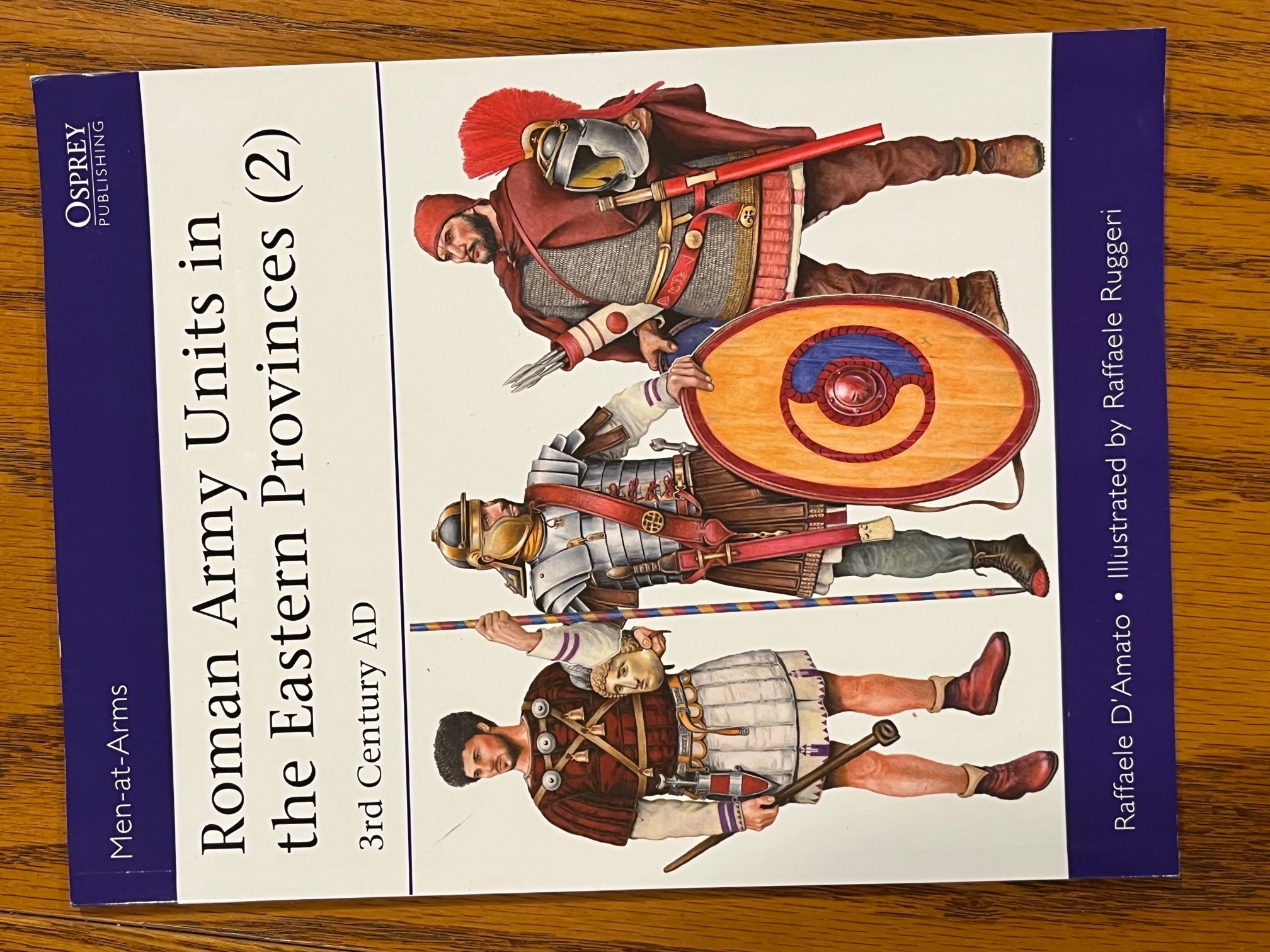 Contents
OK, to get one thing straight from the start, this is a short book at a total of 48 pages, including a host of colour plates, tables, maps, you name it, it is there, to claim it is 'in depth' may be a little mis-leading, as looking at the contents (below), the book covers off a lot. A lot. I would say this is a very good introduction to the subjects identified, well supported with colour plates. And the colour plates are the real strength of this book by Raffaele D'Amato (Author), as Raffaele Ruggeri (Illustrator) has done a stand up job, and is a master at it. I appreciate there is some interpretation, but by and large, the profiles presented are accurate and detailed (to the best of my knowledge).  

Table of Contents: 
INTRODUCTION

- The Eastern Provinces, from the Severans to Diocletian
SELECT CHRONOLOGY
MILITARY ORGANIZATION
- Units – Command ranks and functions
DISTRIBUTION OF UNITS
- Legiones
- Auxilia
- Numeri
- Table of identified units, locations & dates
ARMS, EQUIPMENT & CLOTHING
- Moesia Superior
- Moesia Inferior & Scythia Minor
- Dacia (Malvensis & Superior)
- Epirus
- Achaia
- Macedonia
- Thracia
- Bythinia & Pontus
- Chersonesus–Tauris
- Asia
- Lycia & Pamphylia
- Galatia
- Cappadocia
- Cilicia-Isauria
- Osroene & Mesopotamia
- Syria-Coele
- Syria-Phoenicia
- Syria Palaestina
- Arabia
- Cyprus
- Aegyptus
- Crete, Cyrenaica & Tripolitania
SELECT BIBLIOGRAPHY
PLATE COMMENTARIES
INDEX
The book is an easy read, you'll do it over a coffee (or cold beveridge or your choice), in an afternoon, comes across as authoritive as you'd expect from someone with a Ph D on the subject and 40+ books.  There is some explanation to give certain points context, the rest is pure content, there is no padding here. The photos are relevant and support the text, or illustrate a point, which is helpful if you're not familiar with the subject. 
Definitely recommended. 
None of the images were taken in landscape, and I cannot rotate to profile and save; it is an issue that really bugs me. I will keep working on it until I find the fix.