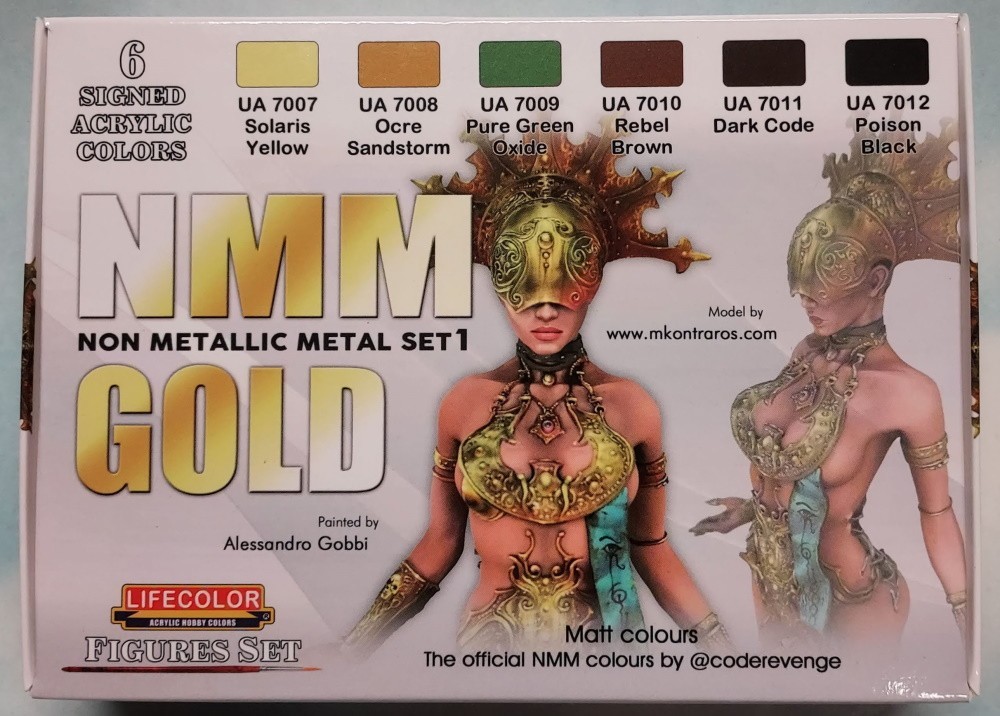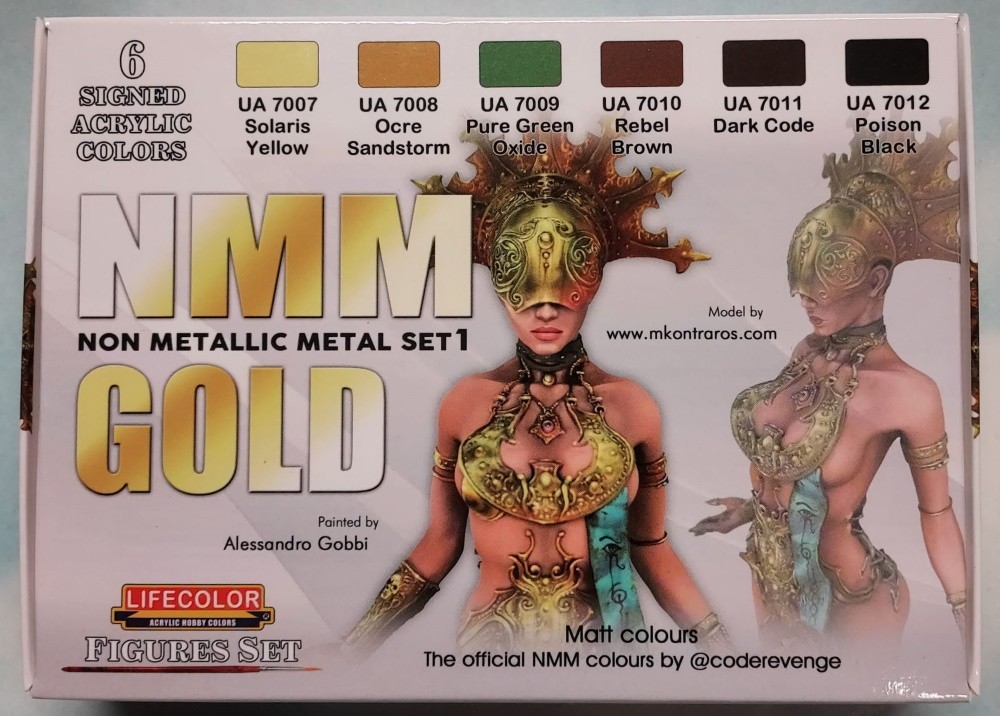 Non-Metallic Metal Set 1, Gold
Welcome to this look at LifeColor set CS53, NMM Gold, Non-Metallic Metal Set 1, Gold. A second set, NMM Steel, is also available. This set was provided by Airbrushes.com and you can view it at this Airbrushes.com page.

Back in the days before paints with metallic flakes as their pigments, artists had to simulate metallic objects with studied use of common colors. True, gold and other leaf material were/are used to gilt objects but artists learned to replicate the sheen of metal with ordinary colors. Today, there is a culture in miniatures painting which focuses on creating the illusion of metallic surfaces without metal flakes in their paints. One reason is to control the light. Metallic paints not only reflect environmental light, they reflect the colors around them, changing it as it is subject to changing illumination. This affects the appearance of a carefully painted figure contrary to the desire of the modeler. Non-metallic metal techniques allow modelers to simulate light sources for the lighting of their model.

I was not familiar with non-metallic metal (NMM) painting and quickly discovered there are many ways to achieve such and effect. One practitioner is Alessandro Gobbi who collaborated with LifeColor, which based on his techniques, created this set with @coderevenge. Mr. Gobbi created an instructional PDF with can be accessed here: Download the how to paint NMM Gold step by step.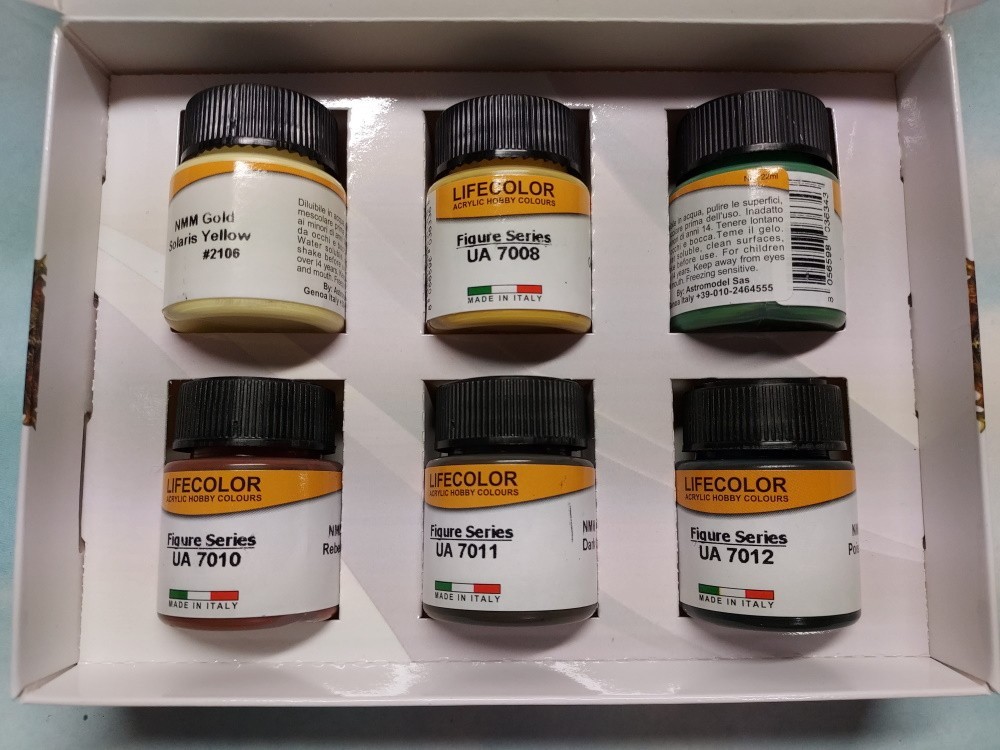 Non-Metallic Metal Set 1, Gold
Set CS 53 is packaged in an attractive flip-top cardboard box with the six 22ml plastic bottles in individual compartments. The bottle caps are molded with an internal rim which both provides a small palette cup as well as inhibits paint fouling the bottle cap thread.   Multilingual text on the back of the box explains how to use these paints.
These water soluble paints are made with very fine ground pigments.   They have no noticeable odor.  Often, I find them to be much thinner than other brands I use but this set seems to be formulated for brush painting.

There are no printed instructions other than examples on the box.  As mentioned above, you can download Mr.  Gobbi's tutorial.   Lifecolor reminds us that these can be mixed with their Tensocrom Medium to create washes and glazes.
This set consists of:
UA 7007 Bright Yellow
UA 7008 Ochre Sandstorm
UA 7009 Pure Green Light
UA 7010 Rebel Brown
UA 7011 Dark Code
UA 7012 Poison Black
'Green, for gold?' you may ask.  Pure Green Light is used to create a 'cold' gold, as explained by Mr. Gobbi in his tutorial.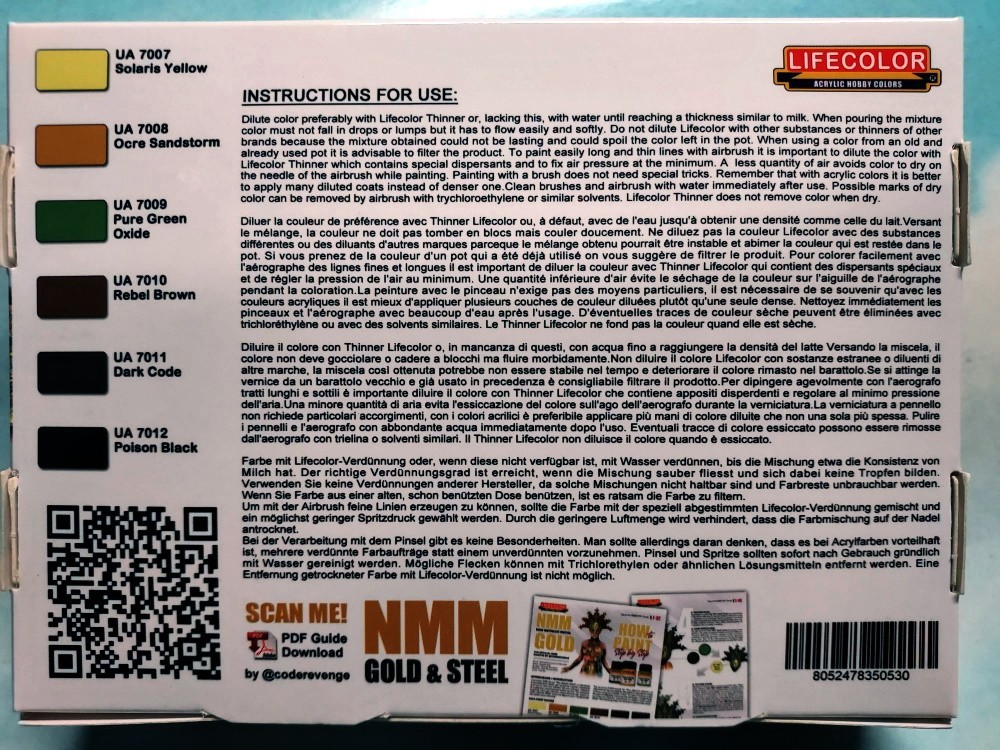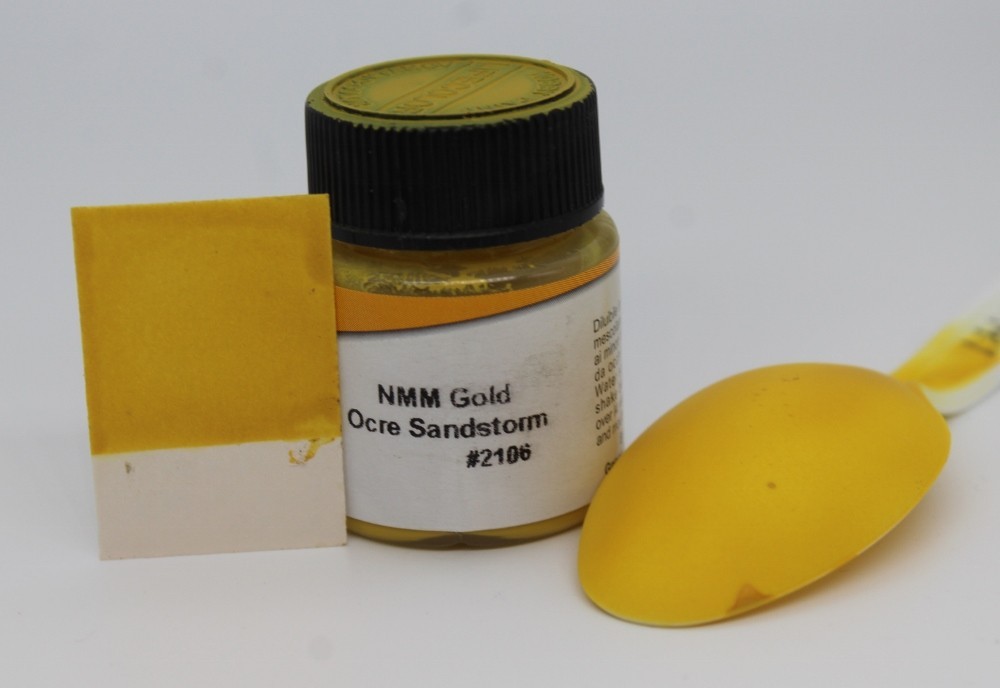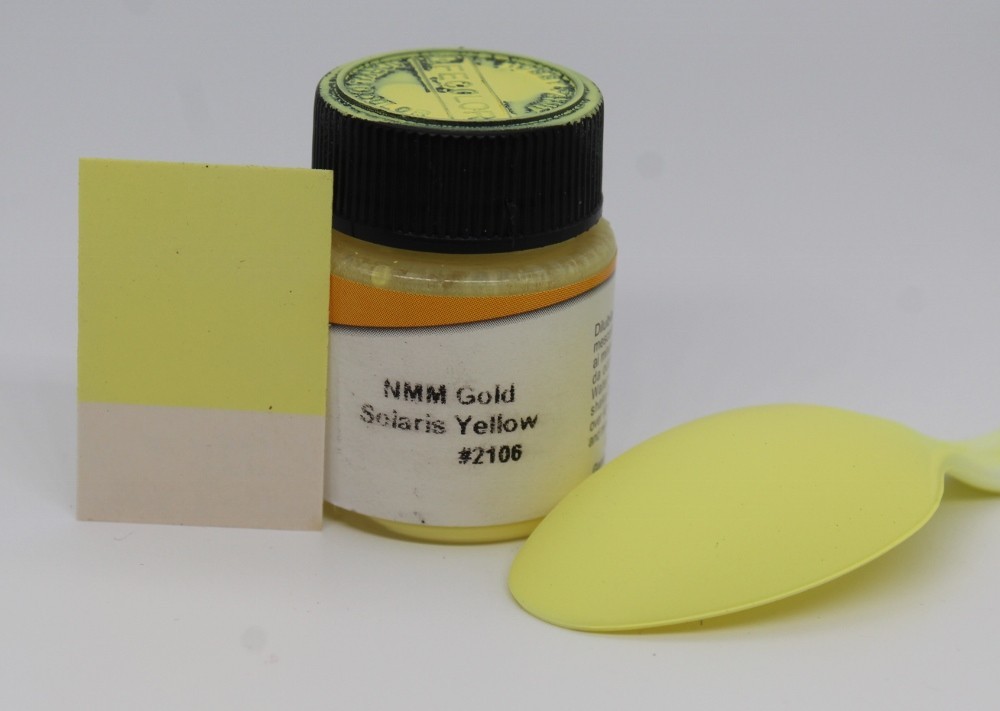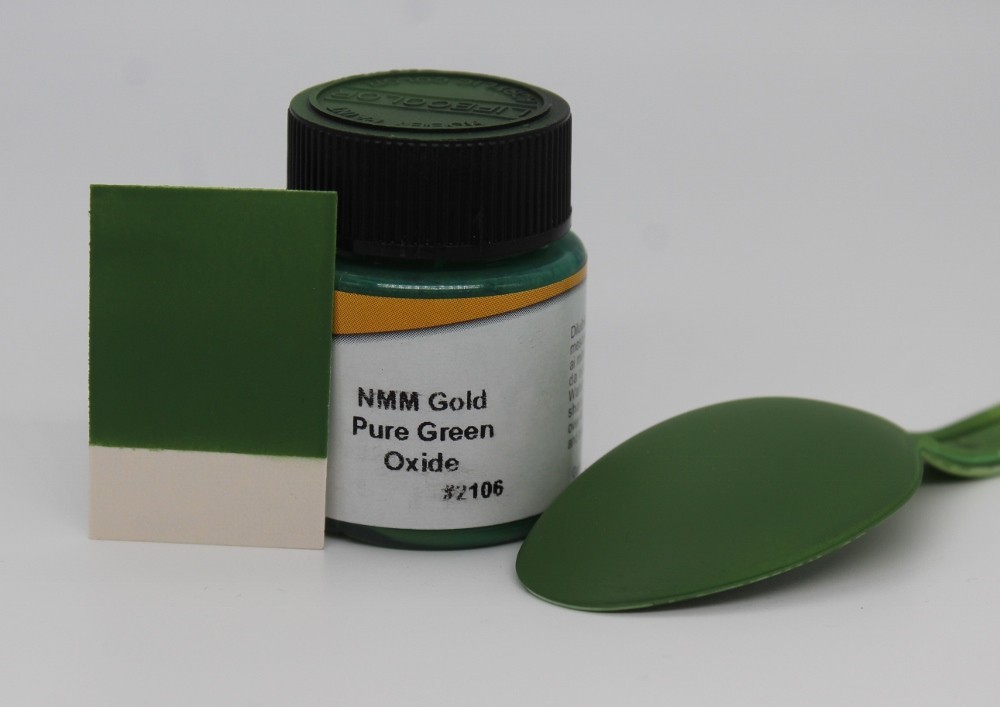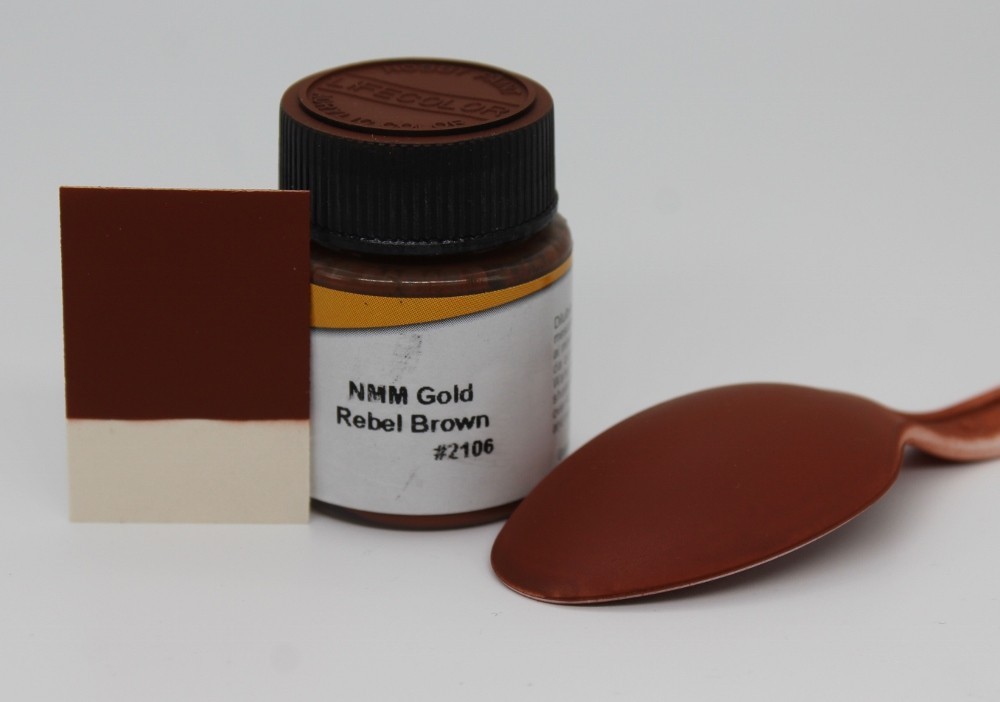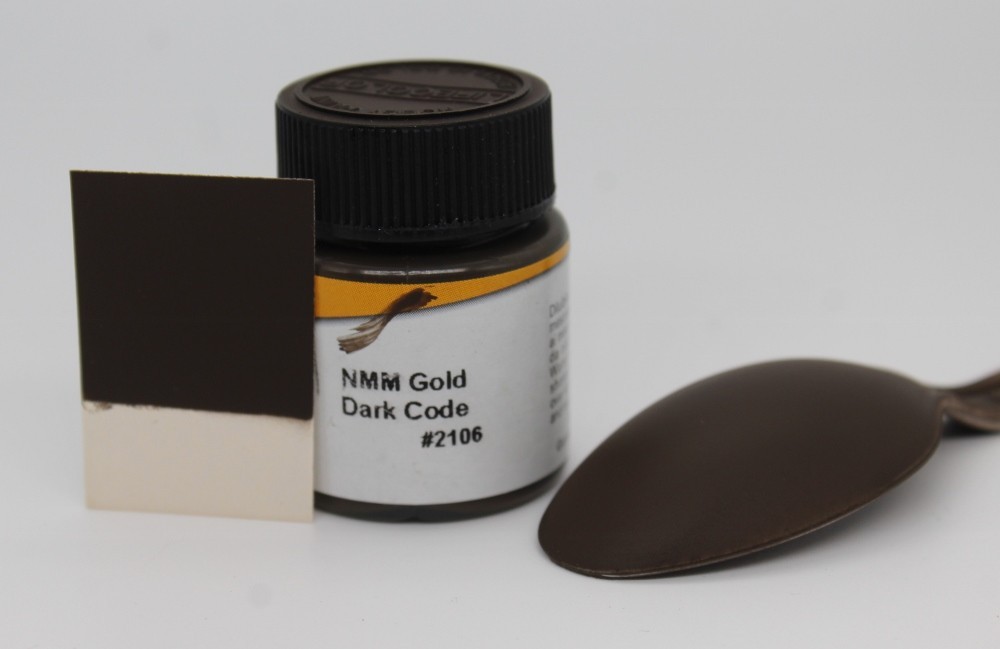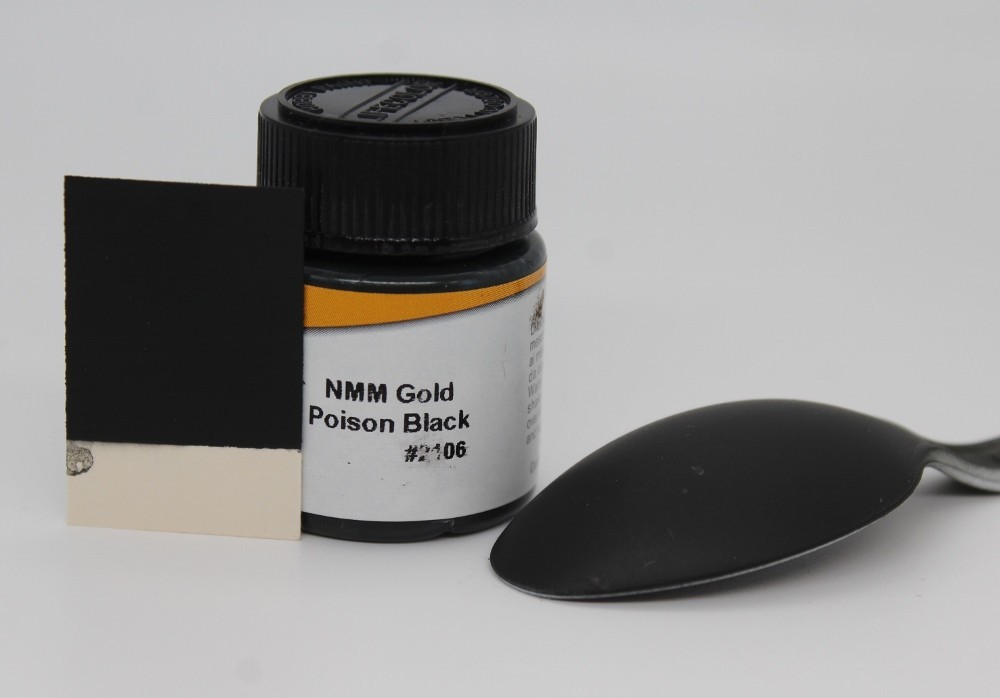 Application
These LifeColor paints sprayed well at 12-15 psi.   I used LifeColor thinner with five of the colors, a 25%/75% thinner to paint ratio.
I airbrushed and brush-painted each color.  None of the colors ran nor puddled. They are advertised as drying matte and I agree they do so.   For the test canvases I used white plastic spoons and white illustration board.

Airbrushing
After stirring, I shot the colors through a medium airbrush tip at the aforementioned 12-15 psi.  Most covered with one coat.  Dark Code required two coats, as does Ochre Sandstorm, even though I did not notice that until I loaded the photo of it..

Bristle Brushing
Brushing works well.  A couple of colors required a second coat.  They dried rapidly.

Adhesion

Like many previously tested LifeColors, these stick to the surface and resist scratching.
Demonstration
I apologize that I have no large scale figures to demonstrate this set upon.  So I used a transmission cover from a tank.  Those are usually made of metal, right?   (And with the price of some military hardware these days, they might as well be gold-plated.)
First, I tried painting it using my own experience.  Then I read the tutorial and repainted.  Obviously, I need much more practice.  The painting needs some refinement and yet I think it resembles a gold object.  (Squint real hard and use your imagination.)
Even though the compound curves are very different, I include a photo of my wedding band for comparison.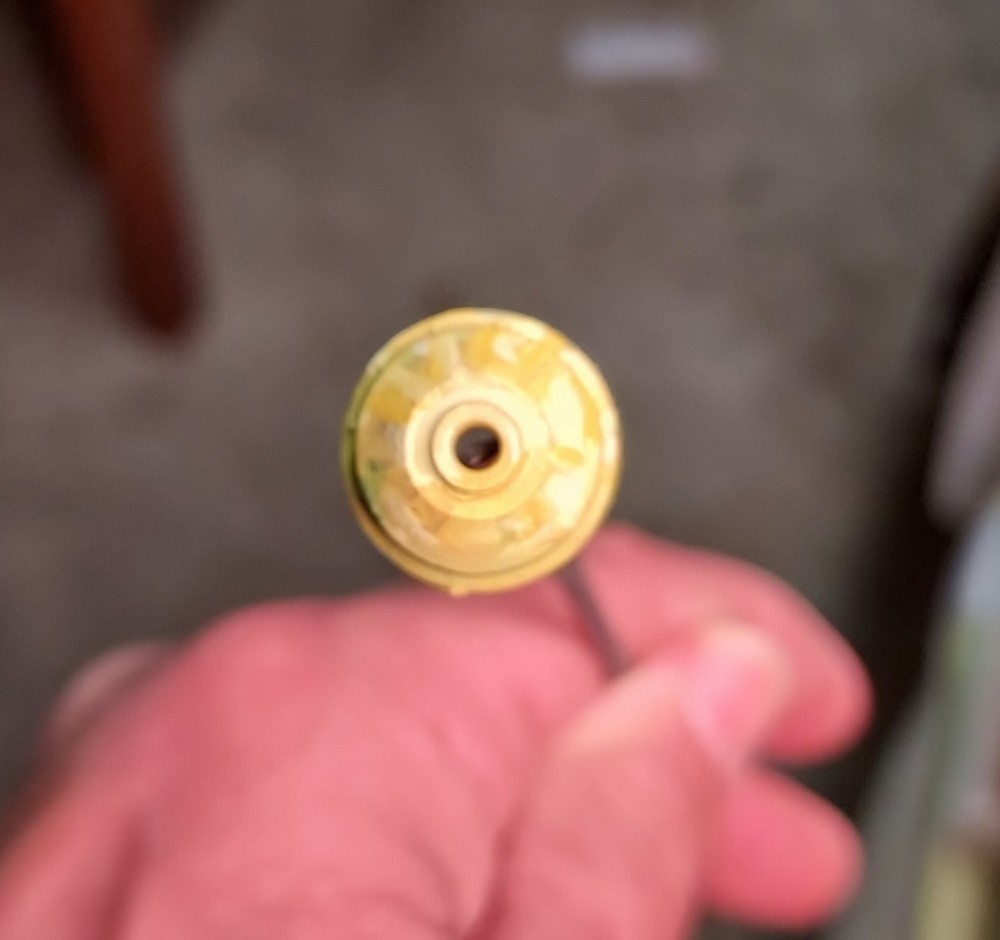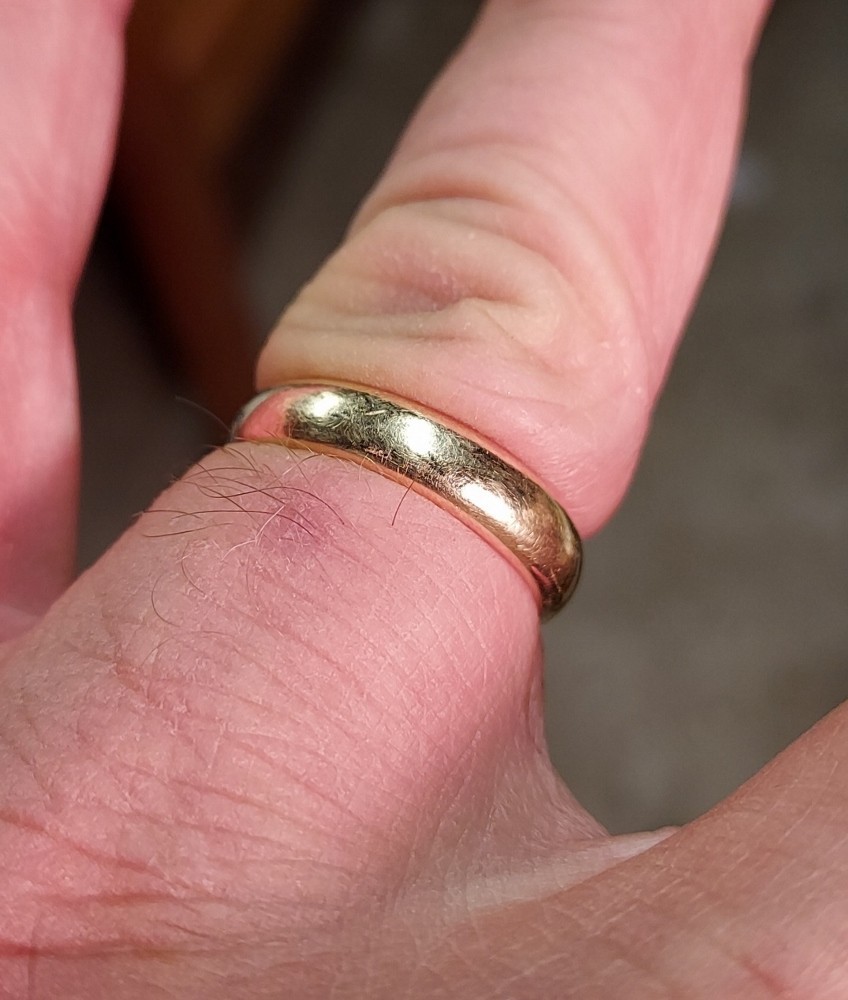 Conclusion
What do you think?  I think this set has potential.  LifeColor has created a fine set of paint colors with NMM Gold.  I am intrigued by these acrylic paints and their purpose.  The paint itself did not thicken or clump after the bottles were opened.  Three colors worked well out of the pot and none presented challenges.     LifeColor states they should be thinned with their brand thinner, and it worked as advertised.

Like most LifeColors I have used, adhesion is flawless.  The bottle design is great, as is the packaging. These paints cleaned thoroughly through an airbrush and by swishing a brush in water.
This is a interesting set to expand LifeColor's other figure sets.   I recommend these.
Please tell Airbrushes.com and vendors that you saw this review here - on Model Geek.